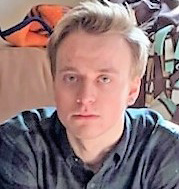 Donka is excited to welcome Ty Pavicich to the Donka team. Ty joined us in August as Communications Manager and Instructor. He holds a BS in Journalism and Mass Communication and possesses experience in nonprofit marketing, corporate communications, and journalism – including working as a Donka volunteer.
Ty is training students and also manages our social media and marketing. Since joining us, he has
helped with a successful Giving Tuesday campaign and assisted in developing AT workshops and Donka information sessions.
Welcome to Donka, Ty!
Connect with us!
Contact Information:
Donka, Inc.
400 N. County Farm Rd.
Wheaton, IL 60187
Phone: 630.665.8169
Email: [email protected]
Business Hours:
Monday – Friday 8:30 am – 5:00 pm
Saturday – Closed
Sunday – Closed
The subscribe button is for subscribing to the Donka Newsletter
© DONKA All rights reserved.